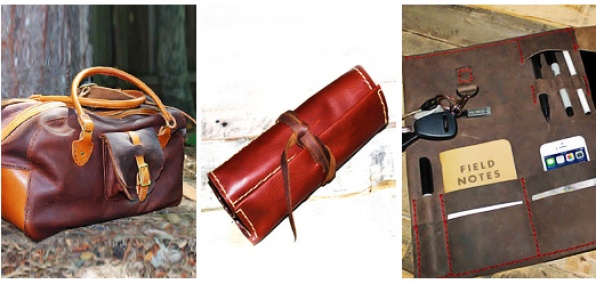 They say you should never accept candy from strangers.

Unless the candy is Italian leather and the stranger is a girl named Megan.

Then you're good.

Stop and smell the cowhide at Megan's Mark, an Atlanta-based Etsy scenario from a self-taught leathersmith who just wants to make you nice things, online now.

There's a lot to look at here, including a few standouts like...

A two-toned duffel for taking to faraway places.
It's hand-cut, hand-punched and hand-sewn. Why, yes, inquisitive flight attendant, that does include the honey-brown rolled handles and interior cell phone pocket.

The roll-up pencil holder to end all roll-up pencil holders.
First of all: it's made from Italian leather, it has five compartments, and it rolls up into a burrito. Second of all: it's a pencil holder. Third of all: it's a pencil holder.

A portfolio that stores your life.
iPad. Phone. Keys. Other stuff. Pick a leather color (charcoal, brown, chestnut...). Pick a thread (red, beige, navy...). And pick the initials you want burned onto the cover with a branding iron (yours...).

Something that's just for you.
She's open to custom orders, so think on it. Maybe you can finally get that leather polo shirt you've always wanted.

You're weird.