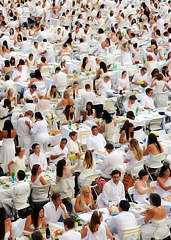 Great moments in white:
—The White Album
—Billy Idol's "White Wedding"
—This coming September 4
Get everything starched and pressed for
Dîner en Blanc
, that combination flash mob/picnic thing out of Paris you may have heard about. They're taking registration requests now, and opening up the list a week from today.
But just so you know what you're getting into, here's a cheat sheet:
—
It's BYO table.
The idea here: a massive, elegant dinner party where none existed a moment ago. To achieve this, yes, you'll need to tote your own table and chairs. And real china and glassware. Come to think of it, hire a Sherpa.
—
You can preorder food.
If a picnic basket is just one too many things for you to manage, you can order a basket, preassembled with stuff like cheese and charcuterie, all the way up to shrimp cocktail and lobster salad. Ditto on the champagne. Which seems appropriate.
—
Oh, and they won't tell you where it is.
You'll just show up wearing white at a designated meeting spot on September 4, and then maybe walk, maybe Metro, maybe get bussed to the actual dinner.
It's probably not on the South Lawn.