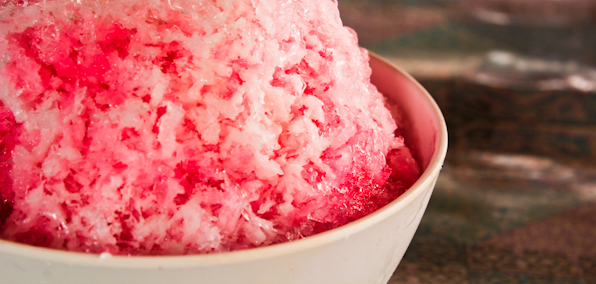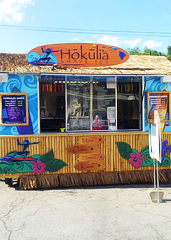 "I'll take a longboard full of tiger's blood with some li hing mui powder, please and mahalo."
That's probably a sentence you didn't think you'd say today.
You really shouldn't think so much...
Thank the summer gods for
Hokulia Shave Ice
, a new Hawaii-inspired tiki hut filled with delicious ice that you'll find in the parking lot of an abandoned laundromat, now open in Little Five Points.
It's hot out and this is shaved ice. Moreover, this is shaved ice from a shack that's covered in bamboo, a grass skirt and direction signs that say Maui, Oahu, Kauai and Hawaii. So that's fun.
After you've picked your size (shortboard, longboard or big kahuna), check out the window menu
with 50 flavors
on it. Horchata. Boysenberry. Pink bubblegum.
Tiger's Blood
. That last one's a strawberry-watermelon-coconut concoction and not tiger's blood because gross.
Get crazy, though. Throw some coconut ice cream in there. Maybe opt for the
Sno Cap
with sweetened condensed milk drizzled on top. And mostly because it's fun to say, ask for the li hing mui powder, which translates to "traveling plum."
Those plums have seen some sh*t.