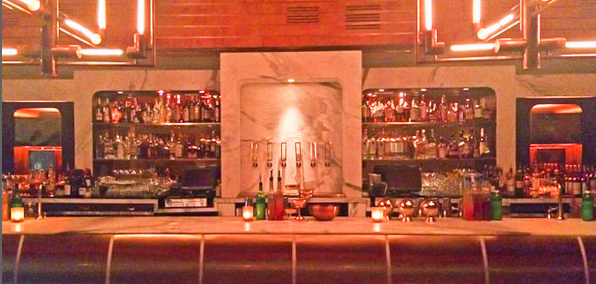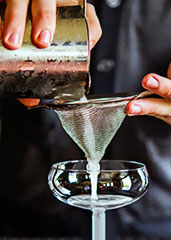 When Grandpa was your age, he walked to beautiful Cahuenga bars uphill both ways in the nonexistent snow.
Now that you're your age, you'll just get an Uber or something, and then...
One day you'll tell your own stories about
Grandpa Johnson's
, the elegant, long-awaited new '40s-style cocktail lounge from the creator of Hemingway's, now open in Hollywood.
We were there last night, and here's what's going on inside:
It's a handsome little lair wrapped floor-to-ceiling in shiny blond woods, white marble and semiprecious metals. So when your date wants a taste of old Hollywood glamour after catching Hollywood's latest summer travesty at the ArcLight, lead the way through the crowd of fedoras, beards and bare shoulders to one of the two-top tables, boldly emblazoned with a "GJ" and flanked by white couches.
Note the crazy rectangular copper-pipe chandeliers dangling like mobiles. Note the curved metal bar. Then stop noting things and order a couple of eccentric, quickly made
drinks you won't find elsewhere
like
Decadentes
(tequila, green tea, guava puree) and
Eddies
, which involve whiskey with coffee tincture, ancho chili liqueur and banana syrup.
And you already know you like the whiskey part.