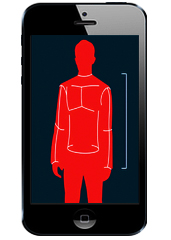 Getting a perfectly tailored shirt is such a pain.
You have to quickly take a video with your phone so it can magically measure you via math and science and stuff, then push a couple buttons to get that shirt made and shipped to you.
Life is so incredibly hard.
Slightly raise your eyebrows in wonder over
MTailor
, the first app that lets you scan yourself via your phone to get measurements for a custom shirt and order it straightaway, now available for iPhone.
The history: basically, two Bay Area guys who went to Stanford decided to put their math and computer science degrees toward making you look better via your phone. Tuition well spent, as far as you're concerned.
So first you download the app. Obviously. Then you just make a few selections: dress shirt or casual, slim fit or regular, gingham or striped, all that. Then you just take a quick video (don't worry, there are instructions, and they're easy) and place your order. A couple weeks later: shirts. Magical, magical shirts.
You're probably wondering if you can get some dress pants or go full suit with this thing. Not yet, you can't. But soon.
Anyway, this is an acceptable exception to your no-selfie rule.