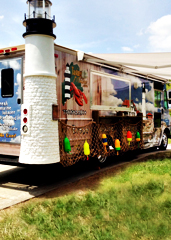 Lighthouses: great beacons for when sailors need guidance to safety.
Lighthouses: also great beacons for when you need guidance to... lobster rolls.
As proven by:
Tasting Maine
, a new mobile eatery that's about to be your resource for eating fried-haddock sandwiches while pretending it's normal that there's a lighthouse on a truck, launching tomorrow at the East Point Farmers' Market.
If you didn't know any better, you'd think this was a float that got separated from a parade in Portland, Maine. But you do know better. You know it's owned by a couple Mainers. And you know that the 12-foot lighthouse, dock pilings and rope netting with buoys all over it are just a tease for what's inside.
What's inside: fresh seafood brought in from Maine. Might as well try
a little of everything
. Get the
Fried "Clam Strip" Basket
. Then figure out what to get in your New England roll. Lobster. White albacore tuna. An all-beef hot dog from a four-generation family business in Maine...
Hey, they can't all be lobstermen.