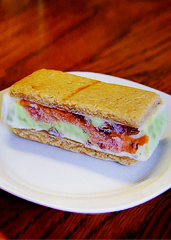 We get wild ideas sometimes. Call them edible flights of fancy. And we think you deserve a world where these things exist. So once in a while, we scrawl these ideas on a bar napkin and pass them to someone with the fortitude, the mastery and the lack of regard for natural law necessary to make them reality. We call it Served Up...
People have been tweaking BLTs since the beginning of time.
Topping them with fried eggs.
Sneaking avocados in the middle.
Turning them into ice cream sandwiches...
Sure, we'll come again.
Perplex your taste buds with the
Atomic BLT
, Atomic Ice Cream Sandwich's take on the beloved bacon, lettuce and tomato sandwich (spoiler alert: it's mostly made of gelato), available off-menu Thursday at the EAV Farmers' Market.
Yes, this thing meets the BLT requirements. Technically. It's just that some of the main ingredients are a little untraditional. Like how the tomato is a sun-dried coulis. And how the lettuce is a basil gelato from Honeysuckle. And how the bread is two vanilla caramel cookies that resemble slices of bread. Minor things.
It's a sandwich-flavored dessert, so treat it as such. This entails: waiting until you get hungry in 90-degree weather, tracking it down and then taking an overzealously big first bite. The bacon will be crunchy. The basil will smell basil-y. The tomato will taste like... a vegetable mixed into a freezing-cold ice cream sandwich. Otherwise, totally normal dessert treat.
Your first chance to try it will be at their regular farmers' market haunt this Thursday. But if you miss that, it's officially being released at the Atlanta Ice Cream Festival in July.
Don't tell the Atlanta Sandwich Festival.