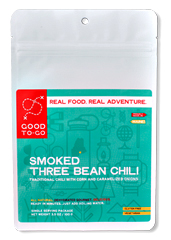 We're lovers. You know that. But every now and again, something comes across our desks that just seems... suspicious. Because of the tremendous material upside to all our lives if these claims pan out, we at times put ourselves in harm's way to investigate. Albeit skeptically.
We call it: Skeptical Investigation. (Trademark pending.)
THE CLAIM
That Jennifer Scism, a chef who beat Mario Batali in an
Iron Chef
battle, has created a line of "dehydrated gourmet" MREs called
Good To-Go
that you'd actually enjoy eating on the trail. And, in a pinch, may even feel inclined to serve to dinner guests. A big, big pinch.
THE INVESTIGATION
On a day not unlike today, we tasked our most seasoned Food N' Stuff contributors to give these things a go. First, boiling water was added to bags filled with ingredients like corn, beans, rice... you know, actual food instead of ambiguously named powders.
Fast-forward the requisite 20-minute "cook time." Forks were grabbed. Mountain scenes were imagined. All three options (
Thai Curry
,
Smoked Three Bean Chili
,
Herbed Mushroom Risotto
) were tasted. Basically, some adults ate lunch out of pouches.
THE VERDICT
Our investigators confirmed: "Pretty good flavor for camping food."
Bag food. Who knew.