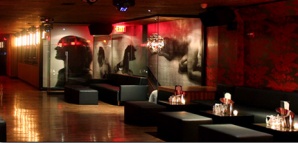 It's time to pay a little homage to the disco.

That mirrored ball brought a lot of good times—hard drinks, easy romance, throbbing bass line and, of course, the moves (you still haven't retired the "shopping cart").

Bring those moves over to the new Dirty Disco, opening Saturday. Retro red patterned wallpaper gives the space a decadent '70s feel, and Kevlar-covered seating practically begs for some action (some people love a challenge). Bottle service will include 3-liter jeroboams of Veuve and Cristal, so you can relive old times when all the good stuff flowed like water. Dancing girls will be a-plenty, thanks to DJs spinning a mix of '80s, rock, hip hop and euro house.

A giant black and white photo mural of a girl passed out on a carpet (what could be more artistic and, um...inspirational) hovers over the glass-encased staircase that leads to the smaller downstairs lounge. This is where things will most likely get a little crazy, because when seven (yes, seven) disco balls are assembled to rotate from a recessed ceiling...well, who knows what can happen. Take that philosophy to the restrooms, with (of course) individual disco balls in each stall.

Burn, baby, burn.