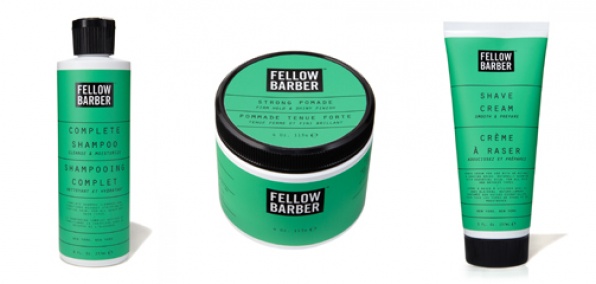 Ah, the timeless trappings of an old-school barbershop.

The scent of aftershave.

The warm foam on your face.

The way they prop your hair up just so.

Those little comb things with the blue stuff in them.

Bad news: you can't have a comb thing. Those are for barbers only.

As for everything else: there's Fellow Barber, a gentlemanly mélange of creams, ointments and other things that'll generally help you look and feel like a million bucks, available for preorder now.

This is what your father would have used in his day. But now it's in your day. And it's essentially a collection of mint-green tubes and tubs of everything you need in your home barbershop tool belt. Which isn't a thing yet. You're working on it.

There's pomade for styling your hair. There's aftershave for soothing your face after... you shave. There's shampoo. You know how shampoo works. You know how all this stuff works.

Oh, and also keep an eye out for things like twill-and-leather briefcases from Filson and other miscellany like a random brass fishhook key fob.

There's the fob. You knew there'd be a fob.