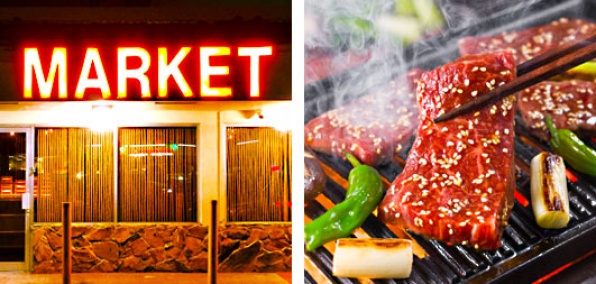 87 to 104.

Let us never speak of those numbers again.

Moving right along...

... to your new weeknight/weekend distraction: Drunken Dragon, a DIY Korean barbecue joint in South Beach with a taste for Japanese bondage, opening tomorrow night... in a strip mall.

First thing you should know: the Foxhole crew is behind this place. So expect... nothing. Or everything. But definitely a whole lot of Japanese persons engaged in questionable acts plastered all over the walls. Oh, and a bunch of heavy ropes strewn about. Not that there's a theme here or anything. Anyway.

Second thing you should know: you're in control. Which... right. You'll slide into one of the ondals (that's a Korean barbecue table) with a date and start grilling your own pork belly or New York strip with different sauces (think: bulgogi and ssamjang). Apparently, tiki drinks go with stuff like that. So order one of their mai tais (rum, dry curaçao and orgeat topped with a rhum agricole floater). Then, keep on grilling.

Third thing you should know: group outings. They work nicely here. That 300-pound slab of reclaimed Douglas fir hanging from the ceiling—that's where some serious feasting/festing will go down over tuna tataki pizza.

No, that's not a safe word.