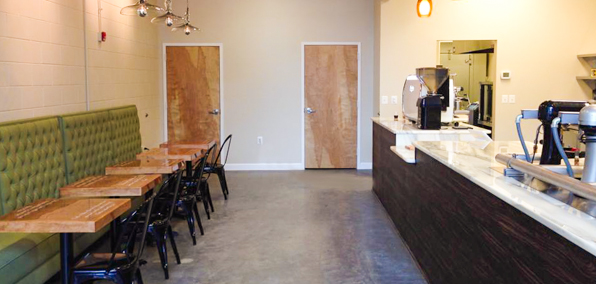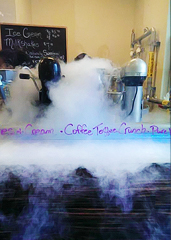 Things that emerge from an imposing-looking cloud of vapor:
—Han Solo at the end of
Empire Strikes Back
.
—Kiss in concert.
—And now, your next scoop of ice cream.
Get way, way below zero at
Love 'n Faith Café
, a new storefront on 14th Street that doubles down on the cold by instantly freezing ice cream with liquid nitrogen, now open.
These folks (including the owner, not coincidentally named Faith) used to be found only at the convention center. And downtown office celebrations. And Bethesda birthday parties. But now they've got their own parlor, with very high ceilings, handmade tables and high-backed banquettes.
So pick a hot day. Hell, it's June, pick any day. Step up to the counter. If it's early, ask for a
Wake Me Up
(espresso, milk, ice cream, banana). At midday, you might opt for a strawberry/lime/mint sorbet. And at night (they're conveniently open until midnight on weekends), wrap up your evening with some
brownie batter ice cream
or a banana smoothie.
But pay attention. Every couple minutes, they're making fresh batches, as they freeze a metal bowl of their custardy ice cream mix almost instantly with a minus-320-degree stream of liquid nitrogen, and a billowing cloud of gas.
Bring goggles.