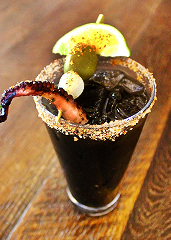 Look at that. You're about ready to segue into cocktail hour. Which conveniently segues into cocktail long weekend.
Which means: they're already mixing up the fish stock and squid ink.
We'll explain...
Embrace the darkness of
The Pantera
, an inky-black version of a Bloody Mary, now available all day at Del Campo in Penn Quarter.
If there's such a thing as making a statement with your drink order during a patio brunch, this would be it. Maybe you're trying to project an air of danger. Maybe you're just really into thrash metal.
Whatever. Here it comes. Jet black, rimmed with smoked salt, and topped with a skewer of olive, lemon, cocktail onion and... a grilled octopus leg. (Apparently, one octopus now equals eight cocktails.)
Take a pull. Yup, that's a little sea brine from the ink and the fish stock. But like everything else here, this also sees some smoke and fire, in the form of smoked tomato juice and grilled chili peppers, which get mixed in with horseradish, lemon, onions and celery.
Also: a shot of pisco.
Oh, right, there's liquor in it.