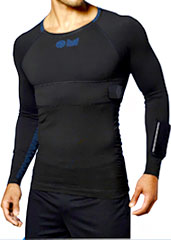 A prediction:
Someday, humans will need their smartphones to tell them how to breathe.
Well, that day is here. And it's awesome.
Check the vitals of
OMsignal
, a futuristic gym shirt equipped with a little black box that can tell your iPhone everything about your body, available for preorder now and shipping this summer.
Basically, it's like wiretapping your body.
First, you'll put this on. It's a special bio-sensing compression shirt. We said "bio-sensing" because if you clip on the shiny black thing that came with the shirt, it will start gathering data from your body and wirelessly send it to your iPhone for analysis. So do that, unless you just wanted to buy a really tight shirt.
Then do something. Like a thousand crunches. Or briskly walk to the liquor store. Anyway, the black box will start streaming data to your phone. It will measure your breathing and tell you if it's irregular. It will take an electrocardiogram of your heart and tell you to push harder, or take it a little easy. And then give you a report when you're done.
There's also a lifestyle mode that monitors your body's energy, stress and calorie intake throughout the day.
Congratulations. You're almost a computer.