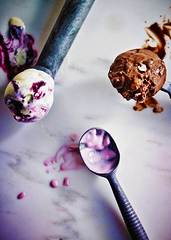 Back in the day, it was never officially summer until you heard the sound of an ice cream truck rounding a corner.
My, how times have changed...
Get just the right amount of excited for
Queen of Cream
, a new roaming dessert cart operation unleashing all manner of frozen delights from a former Paper Plane and Victory Sandwich Bar pastry chef, popping up all over town starting Sunday.
As you may have guessed, this is one of those "almost everything's local and seasonal" situations. The caramel marshmallows are made by hand. The milk comes from happy cows that were blessed by a cloaked man who lives in the shadow of his own beard. That kind of thing.
When they get their mobile vending license soon, you'll start seeing them around at festivals and things. Of course, they'll have some classics (coffee, salted caramel, cookies and cream...). But maybe go for something a little more adventurous. Like whatever has mascarpone cheese and candied ginger in it. Or sweet corn with blueberry preserves and pie crunch.
Your first chance to try them out is at Victory on Memorial Day Eve. They'll be there for 12 hours giving away samples until they run out.
Maybe play this one fashionably early.