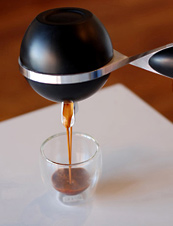 Life requires caffeine. But sometimes, you just don't have time for a coffee run (or to have your intern run out for you).
For those stressful occasions (and more), there's the
Mypressi Twist
, the first ever portable espresso machine.
Yes, we said portable—the handy gadget is just under a foot long, weighs just a pound, and makes what is probably the finest portably brewed cup you've ever tasted. Throw it in your briefcase or weekend bag, along with some fresh ground coffee or standard espresso pods, and you're all set to seduce those around you with your impeccably brewed java and perfectly formed foam.
Just heat up some water, and power it up with a tiny (and far less dangerous than it sounds) gas cartridge. Give it 20 to 30 seconds, twist the handle, and boom—you're serving up eight shots (or four double shots) of hot, tasty espresso for all and sundry.
You can preorder it now for $129. Or, you know, one week's coffee budget.