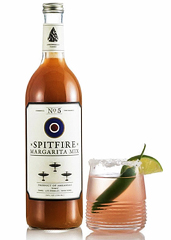 There are two ways you can go about mixing a cocktail.
1) Pour some tonic on top of ice and gin.
2) Be better than that...
Behind door #2:
Arrowhead Farms Provisions
, a wide variety of liquids made with unusual ingredients that instantly create margaritas and Bloody Marys and other such delights when poured over alcoh... (fine, they're just really good mixers), available online now.
Great news: you'll never have to go shopping for serrano peppers or blood orange juice or anchovies before a cocktail party again.
...
Anyway, your strategy is to fill an outdoor mini fridge with these now. Then wait. At an opportune time, say, when a Sunday afternoon turns into a Sunday later-afternoon, break these out. Prosecco gets the
Bellini
mix. Gin gets the
Southside
mix made with mint extract, raw sugar and bitters. It goes on like this.
Right. They make salad dressings, too.
Which they presumably did in case you like salads.