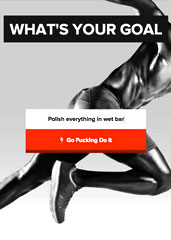 It's understandable. You're busy. Important goals can fall through the cracks.
Achieving 43% more coffee-drinking productivity in morning meetings. Trying out bangs. Buying a Mother's Day gift
before
Mother's Day.
Here to hold you accountable is the subtly named
Go F**king Do It
—a goal-tracking website that charges you money if you don't do what you say you're going to do when you said you were going to do it—available now.
It's a simple, beautiful f**king concept, really: complete goal or pay up and be ashamed. Here's how it works. Go to the website and enter a goal. Start small: "Polish everything in wet bar." Or go big: "Stop saying the word 'f**k.'" Right, wet bar it is.
Next, set a deadline and an incentive—you set the dollar amount (up to $1,000) that feels right, in terms of motivating you to... not lose that money.
You also need to pick a "supervisor." On your deadline, this person gets an email asking if you've completed your goal. If yes, you're golden. If no, and your supervisor isn't you at a different email address (in which case, you might be missing the point here), you get a little poorer and the website's founders get a little richer.
So yes, they're evil geniuses.