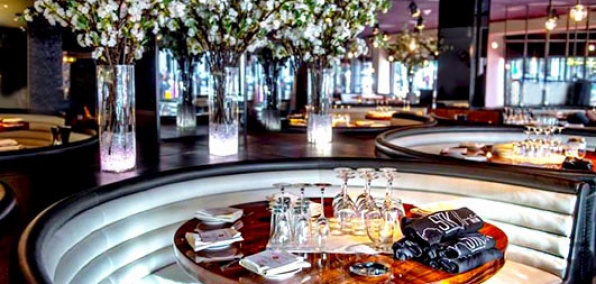 Hype. You'll humor it. Smile at it. Friend it on Facebook. You just won't believe it. Instead, there's this. It's an inspection sheet of sorts. A road test. A canary in the coal mine of DC nightlife. We call it Due Diligence. It's dangerous work, but your nights are too important to leave to chance.
The Place:
STK
, the brand-new, vaguely Vegas-y steakhouse-cum-nightspot that wasn't afraid to hire a few models for an opening party. Expectations: high. Skepticism: also high.
The Hype:
It's "not your daddy's steakhouse."
The Reality:
True enough. Mostly because your daddy probably doesn't go to lounges with DJs, even if you can get a ribeye topped with lobster there. And that's what this place is—sure, you can get a table, but the center of things is a sea of white lounge seats and DJ music that's perfectly at home at Connecticut and N.
The Hype:
You can get stuff like
Shrimp Rice Krispies and Foie Gras French Toast
.
The Reality:
Indeed you can. But you
should
get stuff like the Kobe sliders and bone-in steaks with chimichurri sauce.
The Hype:
It's a steakhouse geared toward females.
The Reality:
We observed women on Friday night. Also: men. The steaks are available in smaller sizes, and the cocktails sport names like the
Cucumber Stiletto
. Which only sounds like a
Sex and the City
episode. And while we're assured that dancing will be happening here, we didn't see much of it as midnight approached.
The cowboy steaks must have been still weighing everyone down.