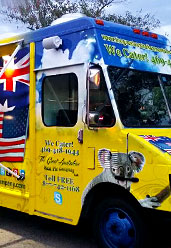 Synergy [sin-er-jee]
noun
1. The interaction of elements that when combined produce a total effect that is greater than the sum of the individual elements.
2. See "meat pie."
Keep your head on a swivel for
The Great Australian Meat Pie Company
, an operation that's merging two of your favorite things into Dallas's first meat-pie-mobile, now rolling.
When you're unleashing Australia's finest pub snack on the masses, it helps to serve them out of the most Australian truck ever. One that's wrapped in the national flag, a koala bear and the Sydney Opera House. You know, for authenticity.
So when you see this truck parked at Sigel's on Greenville or at a local brewery, you'll know you're in the right spot. That's when you'll walk up to the window to order Aussie classics like shepherd's pie. Or not-classics like hickory-smoked barbecue and
The Mexican
, which is basically a beef taco in pie form.
And imagine this. You want a meat pie (yep, that's believable) but can't be bothered with driving across town (also plausible). In that case, call these guys, and if the truck's free, they'll deliver their precious cargo right to your home or office.
Or to some kind of Aussie-themed picnic.