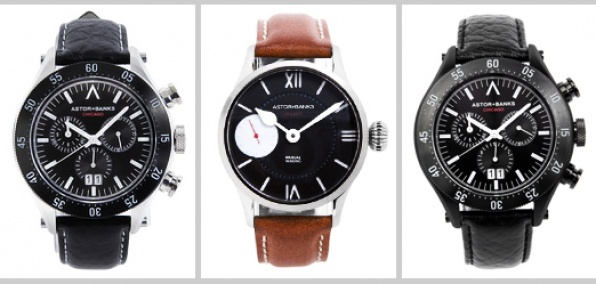 This is a city that rolls up its sleeves and gets to work.

Though sometimes we suspect the city's just trying to show off the amazing watches it makes.

Oh, right: Chicago makes watches now.

Take a gander at your wrist for Astor+Banks, a new line of precision timepieces handmade in the West Loop, available as of now.

This story starts with two watch aficionados who had a dream of putting this town back in the whole luxury-watchmaking game. They begin with some Swiss innards and German casings, but the sapphire crystal, dial and Horween-leather strap are made locally. However, if you're in the market for something more, um, bulletproof (you have your reasons), you can get a strap made from Kevlar.

Now, these are, no doubt, substantial pieces. Solid. Masculine. Restrained. They'll go from business meeting to black-tie gala to... well, all the normal watch-wearing places.

They come in battery-operated quartz or old-fashioned wind-up mechanical. You'll also be able to meet with the watchmakers and design your piece, right down to the color of the stitching on the strap. Though they do have a white, red and navy one—a subtle nod to the colors of the Chicago flag.

Rahm will be impressed.