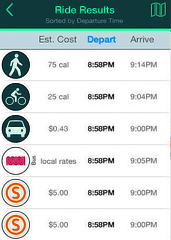 It's not that hard.
You've just got somewhere really important to be in 30 minutes, and all you have to do is decide whether you should walk, drive, grab your bike or use Sidecar, Silvercar, Muni, BART, Caltrain, Golden Gate Transit, AC Transit, Blue & Gold Fleet, Baylink Ferry, SamTrans, Flywheel, City CarShare, Bay Area Bike Share or Scoot.
Okay, it's... man, it's kind of impossible. And the clock is ticking.
Time to meet
RideScout
, an iPhone and Android app that aggregates nearly every mode of transportation imaginable to... tell you how to go somewhere. It's now available in San Francisco.
Basically, next time something incredibly urgent comes up (sandwich craving), this is all you have to do. Just tell the app where you're going and what's most important to you in this moment—like finding the quickest route, or the cheapest. Or, this being San Francisco, the option that burns the most calories. Then you'll get a near-instantaneous list of options, sorted by your criteria.
If that all sounds sort of simple and almost offensively useful, well, it'll also show you available Parking Panda options near your destination.
Although maybe you want pizza instead of a sandwich...