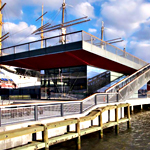 On the Dock of the Bay at Watermark
The scene: Rows of picnic tables beneath a canopy at the South Street Seaport. You're within a stone's throw of massive sailing ships named Peking and Wavetree. And there's a bonus rooftop.
The provisions: Spicy cucumber-tequila cocktails and seaside lobster rolls. Okay, riverside lobster rolls. But still.