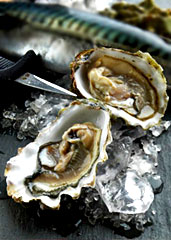 Late-night penthouse parties. Paul van Dyk yacht parties.
Game of Thrones
binge-watching parties.
Nothing wrong with any of them.
Except a notable lack of oyster shuckers at your beck and call...
Say hello to
Oysters XO
, the renowned outfit of oyster shuckers who want only to walk around your party bestowing mollusks, now booking in Miami Beach.
Like many a party enhancer, this idea was imported from Amsterdam—where roving oyster chefs have been shucking live for over a decade. So the founder decided to comb the streets of New York (and now, finally, Miami) for brainy, attractive oyster girls and, well, suddenly immobile raw bars seem sort of outdated.
So if you're planning to invite a few dozen people over for a little cocktail thing, call up Sage, your new Miami Beach mollusk dealer, and pick which of the 200 varieties of oysters you'd like to pair with condiments like champagne vinaigrette, vodka and Bloody Mary mix, and Tabasco.
She'll deploy a small army of shuck enthusiasts armed with buckets of your chosen oysters on ice, condiments at the ready and one metal mesh glove.
No Michael Jackson jokes.
They've heard them all before.