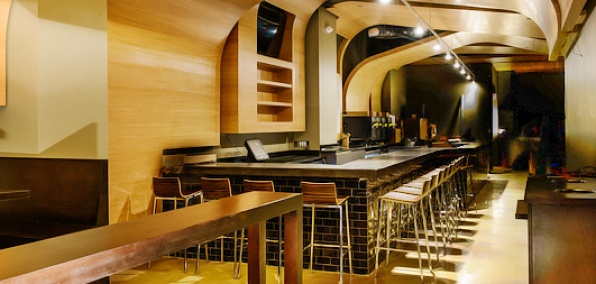 Fetish
(n): 1. magical object; 2. object of obsession
We've got another definition: how you feel about grilled cheese. Fortunately, here's a place that shares your... desires.
It's called
GCDC
, it's a grilled cheese lunch spot that gives way to a grilled cheese bar at night, and it's opening April 1 near the White House.
You can go at this place one of two ways, depending on the time of day. For lunch, they'll be doing the fast-casual thing. Not really the place for a power lunch, unless dipping a
French onion grilled cheese
into a dunkable side of tomato soup makes you feel powerful. In which case, invite someone from the OEOB.
At night, the menu boards come down, the bar stools come out, and you'll feel like you're entering a dark cheese cave. Well, one without the funky smell, but with bourbon and Earl Grey cocktails, and beers ranging from Founders Breakfast Stout to 24-ounce magnums of Miller High Life (cheese: still big in Wisconsin).
Then head to the even darker back dining room, where you'll order Canadian tater tots with cheese curds and gravy, chicken-liver mousse and, yeah, more grilled cheeses, which you'll load with kimchi, serrano ham and jalapeños.
Oh, and cheese.