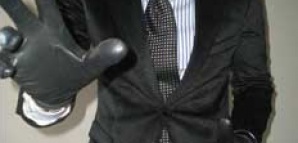 A spot is only as good as its door—or the professional blocking it. Hence THE DOOR, an inside guide to the keepers of New York's most exclusive doors...because you need to know who's there.

~QUICK STATS~
DOOR: PM
NAME: Aramis Zitu
SHIFT: 11 to 3:30, Tues to Sat
AGE: 34
HEIGHT: 6'2 1/2"
WEIGHT: 220
UNIFORM: Gazzarrini suits and eyewear.
HOMETOWN: Brussels, Belgium
FORMER DOORS: Chaos, Pangea
FAVORITE BOOK: The Bible—it's the book that impressed me the most.

~THE FACTS~
REQUIRED GIRL/GUY RATIO: 1:0, all girls. Or 1:1, at least a girl for each guy.

DOOR PHILOSOPHY: I've been told I'm the most hated guy in NYC. People think I'm arrogant, but there's no nice way to say no.

LARGEST BRIBE REJECTED: $5000.

BEST WAY TO "CURRY FAVOR": I refuse bribes because they're bad for business. Once in a while I'll accept money for appreciation, but I always tell them it isn't going to change whether or not I let you in next time.

BIGGEST SUSTAINED INJURY: I was punched in the face once.

B&T TELLTALE: It's always the same thing—a group of big guys, with greasy hair, kind of aggressive. We cater to the fashion industry, to the funky and chic crowd. Chic and B&T do not mix.

AUTOMATIC DQ'S: Loudmouths, groups of guys, not respecting the dress code...No two guys are ever let in, unless they look exceptional.

AUTOMATIC ENTRIES: It's a tough door, but if you come correctly dressed, you'll get in. Just look chic.

CLOTHING DON'TS: Guys all looking the same, striped shirt, jeans...I also really don't like the grunge look or flip flops. I won't even let my friends in if they're not dressed right.

BEST LINE TO USE: A guy once asked if I would let him in if he could make me laugh. His joke was funny, so I let him in. I don't remember what it was.

WORST LINE HEARD: People say to me, "I'm a friend of Aramis."