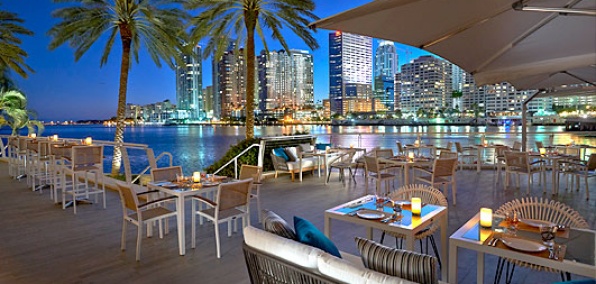 Everyone has their own style of toasting.

Some people hoist green beers overhead, wearing assorted four-leaf clovers and shouting something about smiling eyes.

Some people lead their date to a beautiful table on the water, gaze into each other's eyes and clink glasses of pisco in a warm breeze.

Takes all kinds, people.

Meet La Mar by Gastón Acurio, a Peruvian-minded eatery from a chef good enough to put his name right up there in the restaurant's name, opening Wednesday at the Mandarin Oriental.

About that table by the water: it'll have to wait. First, you've got some pit stops to make in the sleek, modern dining room. Start off at the ceviche bar by the entrance—you'll know it by the bright-orange chairs and floor-to-ceiling garden wall. And the ceviche.

Then, the anticuchos bar for a bite of elevated street food—think skewers of octopus or asparagus.

And then maybe a quick lean at the bar bar. The chilcanos are sort of like Peruvian G&Ts, but with pisco instead of the G and ginger ale instead of the T.

Finally, now you're ready to settle at that table outside. Take your seat, congratulate yourself on the choices that got you to this seat and give yourself over to your citrus-cured fluke.

You hate to keep fluke waiting.