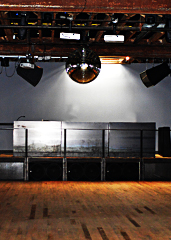 They say a rolling stone gathers no moss.
We hear they were talking about wandering raves when they said that.
Don your finest glow sticks for
Verboten
, the permanent warehouse home of the beloved nomadic party operation of the same name, opening tonight in Williamsburg.
Verboten's been traveling the land throwing raves for a dozen years. Now, in its autumn years, it wants to settle down. At least insofar as 10,000 square feet of wee-hours dancing, panoramic HD video walls and audio systems that don't exist anywhere else can be considered settling down.
You're coming here to dance. You know that. Techno, house, electro (Cut Copy's coming in a couple weeks). What you didn't know is that you'll also come for art shows, burlesque (which kicks off with Wasabassco on Saturday) and yoga classes. Naturally.
You'll start in the Cabaret Bar—red banquettes, a small stage,
cocktails
. Beyond that is the main event: the Control Room. It has another bar and a large, L-shaped stage, along with 3D wall mapping and some mind-blowing forays into the illumination arts.
You know... light.