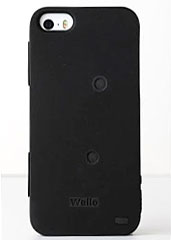 Your iPhone had a little chat with us.
It's... concerned.
See, it likes you. And it wants to keep you around for a while.
Sweet, we know.
So anyway, it'd like to help you with that.
Also, it'd like you to lay off the bacon.
Reach out and touch
Wello
, a handsome case that can read your vitals and track the information on your iPhone, available for preorder now.
So, right. It's an iPhone case. A sleek-looking number that you'd strap on your phone just for aesthetics' sake. But it's also smart. Because it can give you the type of essential health stats you might get during a routine physical. (Sorry, no lollipops.)
Basically, you attach it to your phone and touch the sensors whenever you'd like. For example, during a particularly intense foosball match. In a few seconds, it'll display info on your screen—heart rate, temperature, blood pressure, ECG reading. Then, you can store and view all of that data and track how things have changed over time.
Also, the case comes with a small attachment that measures lung capacity. All you have to do is plug it into your phone and blow.
But probably put the beer down first.