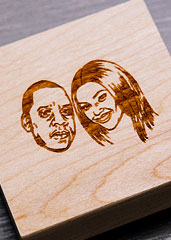 You've waited for this.
All your life, you've waited for this.
And here it is.
Today is the day your face becomes a stamp.
Press a dry, flat surface for
Stamp Yo Face
, an unfortunately named new service that fortunately turns your visage into a rubber stamp, available online now.
First, find a flattering image of your face. One in which you're not eating biscuits and gravy, for example. Send it to these guys. Then, they'll sketch your portrait by hand, cut it out of rubber and mount it on wood. And that's all it takes to turn you into a stamp.
Spitballing. You could add some personal flair to your tax returns. Leave an exact likeness of yourself inside of a thank-you card. Use it in place of your signature on checks and important legal documents (although that's probably a terrible suggestion).
Oh, and every box comes with a "surprise."
Which has a lot of potential to be just horrible.