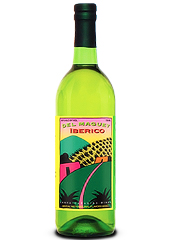 When some people see lemons, they make lemonade.
And when some people see chicken and rice dunked in booze, they say, "Let's try ham."
Here's
Del Maguey Ibérico
, a new mezcal infused with one of the world's best hams, available at Oyamel starting Monday, as they kick off their annual
Tequila & Mezcal Festival
.
Yes, José Andrés helped create this. One of his chefs was at a top Oaxacan distillery, watching them add fruits, nuts, rice and chicken breast to a batch of mezcal. So he thought, hey, why not try that with ibérico de bellota, Spain's top ham. So that's what this stuff is.
It's tough to come by before Monday, so you'll have to take their word that you'll pick up "notes of wet green hay" and "terra-cotta." (We'd also guess it tastes like ham.)
This will probably seem like a good idea after you've had a couple other mezcals. You'll order one of these neat, then start going down the menu until you find something that could possibly pair with it (ham mezcal, meet pork taco).
In April, your options will expand, as you can grab a bottle of the stuff at certain liquor stores.
Next up: rum with green eggs.