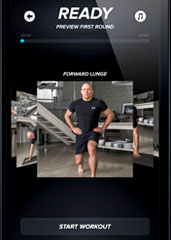 A tiny yet mighty French-Canadian man is living inside your phone.
He thinks you should do a billion lunges.
And... that's what we're going to talk about today.
Drop and give your phone 20 for
Touchfit: GSP
, a new app in which a former UFC champ relentlessly exercises you, available now for iPhone.
There are two things you know about MMA fighters: 1) They have questionable taste in graphic T-shirt design. 2) They have excellent taste in being in shape. And you can probably guess which one of those things your new friend Georges St-Pierre (that's the
GSP
) wants to pass on to you. Hint: he hates shirts.
First you download. Then Georges will evaluate your fitness level. Finally, you'll do a bunch of exercises (like kicks and push-ups and things that are worse) in a series of timed videos. After each set, you'll rate it on a scale of "easy" to "impossible." He won't judge you. Because he's a video and not a real person.
After giving your strengths and weaknesses a score, the app will build custom workouts with over 500 exercises. As you improve, you'll receive higher scores and tougher workouts so you're never not being challenged.
Georges is real strict about that.