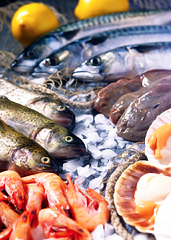 Butchers. Sausage makers. Charcuterie makers. Yup, we're living in a meaty renaissance right now. But good fishmongers—they're few and far between. Enter Union Market's latest tenant,
The District Fishwife
. It's run by an Australian woman who'll sell you British-style fish-and-chips and some Icelandic cod (which is totally what they mean when they say DC is a global capital).
And like the rest of the market, you'll find a few uses for it...
Flashing your culinary chops at home.
Think local rockfish, oysters from Martha's Vineyard, all sizes of shrimp and scallops and number-one-grade tuna. In case you want to bust out your famous number-one-grade-tuna pot pie.
Breaking from all the tacos and empanadas at the market.
In a few days, she'll be turning out dishes to make you linger, like Thai fish curry and potted mackerel pâté.
You just want some mulled wine.
She's got a liquor license, which means mulled wine for the winter, glasses of wine and Chocolate City's Cornerstone Copper on draft to go along with your seafood gumbo.
Convenient when your fishmonger is also your beermonger.