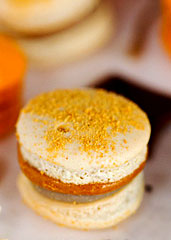 When you think of Cheetos and bean dip, three words probably come to mind.
"Meticulously made dessert."
Or at least they should.
Raise an eyebrow for the
Cheetos 'n Beans Macaron
, a curious union of snack foods in French-confection form, available this Friday at the Cakewalk Bake Shop in East Dallas.
Apparently a bakery in New York did something kind of similar last year, which... really didn't help you any. But, hey, now you're in luck because you've got these conveniently located macarons involving pulverized Cheetos, plus bean dip that's blended with white chocolate ganache. Which is just how you like it.
The result: a synergistic merger of sweet and savory. And cheese. One that just kind of works, in a nostalgic-snack-food/eccentric-mom-packing-your-lunch sort of way.
And because there's a certain red-tinged holiday coming up, Cakewalk and a few friends are hosting a pop-up on Friday. Which means you can be first in line to taste these things, along with a few other new flavors, like Guinness-infused chocolate, root beer float, s'mores and PB&J.
So, not the
whole
food pyramid, but close.
Note:
Cheetos 'n Beans Macaron, available Friday, noon to 6pm (or by direct order), at <a href= "http://cakewalkhome.com/" target="_blank">Cakewalk Bake Shop</a>, 4908 Bryan St, 817-291-1129