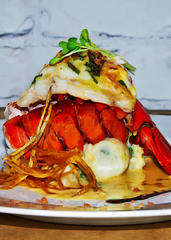 Throughout history, humankind has followed a simple rule: put any word with "lobster," and you've just created something delicious. Think about it...
Roll.
Bisque.
Thermidor.
Pop Rocks.
Okay... that last one's kind of new.
Introducing the
Pop Rocks Lobster Tail
, an appetizer that's exactly what it sounds like, available with dinner as of tonight at Poor Calvin's.
Your journey to Lobsterplosionville (population: you) begins with you braving the weather and going in. You'll be glad you did. There'll be fireplaces. There'll be gin cocktails. And after all that, there'll be someone coming toward you with a plate. (Don't be scared—it's just a waiter.)
On that plate: lobster tail from Canada in a coconut curry beurre blanc sauce over kale-and-wasabi mashed potatoes. On that lobster tail: explosive deliciousness in the form of carbonated sugary goodness. (That'd be the Pop Rocks.)
Take a bite. Chew. Enjoy. Enjoy the sweet-savory combination that somehow just works. Enjoy the sensation of raspberry-flavored Pop Rocks working their magic on your tongue.
More importantly: refrain from drinking soda.