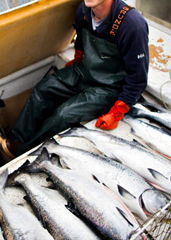 Everyone, meet Jev.
His occupation: fisherman.
His beard: monumental.
His interests: reeling you in pound after pound of the most unbelievably fresh salmon the Gulf of Alaska can come up with.
Oh, and he's got lots of fisherman friends, too...
Cast a line for
Sitka Salmon Shares
, a merry band of Alaskan fish whisperers sending you bounteous monthly shipments of their state's finest exports, taking orders now for deliveries starting in May.
It works like so: visit the site, then claim a share of their eight fishing families' harvests—up to 15 pounds of fish per month, for up to seven months. It's like you're visiting a fish market in a small Alaskan village... without actually trekking out to Alaska. Or having to wear pants, for that matter.
Then fast-forward a bit. Once fishing season begins in May, they'll take a small boat out to sea. They'll hook-and-line a bunch of wild salmon, halibut, cod or spot prawns. And then they'll slap on a stamp and toss you your share. (Their focus is on delivery to the Midwest, but non-Midwesterners can get the goods
here
.)
And sure, May might seem further away than Alaska right now. But once grilling season rolls around, you'll be glad you befriended Jev and the gang.
Grilling-season forethought is a powerful thing.