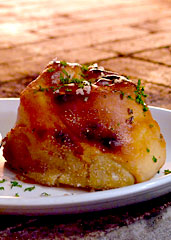 Your word of the day is:
knish [k(ə)ˈniSH]
noun, singular

plural noun
:
knishes
1. a dumpling of dough that is stuffed with a filling and baked or fried.
Let's try and use it in a sentence.
Something like, "I really wish, instead of this sandwich, I had a lobster knish."
Yep, that's right.
Lobster Knishes
. They're lobster. They're knishes. And they're everything you're imagining they are. Also: they're available Thursday through Saturday at Josh's Deli in Surfside.
Typically, Josh Marcus's spot does the brunch/lunch thing. Corned beef poutine. Chocolate baklava french toast. Real experimental deli-type things. But now, he's launched dinner service. And he's brought some of that magic to the menu. And if you know Josh, well, things were bound to get crazy. Lobster knish crazy.
Allow us to break it down for you: there's mashed potatoes spiked with "schmaltz" (that's duck fat, here). Lobster. Scallions. Herbs. All mixed together and stuffed into knish dough. Then, the whole thing's sent into a wood-burning oven for baking and served with maple Dijon mustard on the side.
Speaking of which, the wood-burning oven. That's new. So expect lots of great stuff coming out of there in the very near future.
Good things come in wood-burning packages.