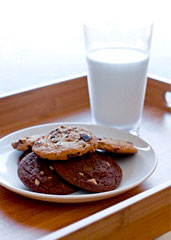 Brace yourself.
We've got big news. Huge. In fact, you should probably take a seat right about now. Because this is the biggest thing to happen to Miami since, well, Pitbull.
All right, not the greatest example. And... it's not.
But hey, there
is
this:
Insomnia Cookies
, the first Miami outpost of the infamous late-night milk-and-cookie couriers, now open and taking orders for delivery in South Beach.
It's 2:30am. You're sitting at home. Or someone else's home. With someone else. Or not. Basically, there are several possible scenarios where you might find yourself with a deep hankering for white chocolate macadamia late at night.
The heart wants what it wants.
What's important to know is that the cavalry's on the way. Or at least it will be after you get online and place your order for stuff like s'mores cookies straight out of the oven. Brownies. Ice cream. Jugs of cold milk. All carefully packaged and delivered straight to your door as late as 3am.
But say it's 3:01am. And your visions of jumbo deluxe chocolate peanut butter cup cookie glory: dashed. Panic ensues... until you realize their storefront is open until 5am.
Keep calm. And start walking.