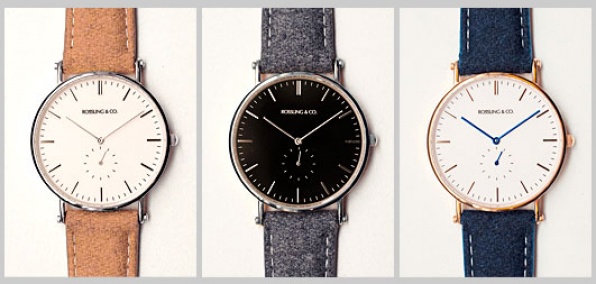 Get this: two guys just invented a circular device that attaches to your wrist with a tweed strap and tells you what time it is.

They call it "The Watch."

Okay, so that wasn't their idea. They just came up with Rossling & Co., a new site filled with dapper wristwatches and the tweed straps that love them, online now.

This all started when two brothers found themselves underwhelmed by the current state of wristwear. So they did what any of us would do considering the circumstances: made their own watches and started selling them to people on the Internet.

And oh those watches. They're classic. They're thin. They have leather-backed tweed straps. The kind of pieces that would look right at home in a 1920s period drama on HBO. Or the actual 1920s.

You've got options. The faces come in black or white. The details in gold or silver. And because holding a watch in place with your fingers would be tiresome and illogical, they've produced their own straps in five colors (tan, navy, gray...), which should at least satisfy your wrist's tweed quota.

Great year to be a wrist.