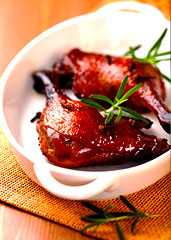 Mondays.
You'll see about 4,040 of them in your lifetime.
And that's a lot.
But not when you consider that only nine of those will include the wonderfully unholy union of seafood sausage and pork crème.
And to that we say, carpe diem.
Mark your calendar for
The Bent Fork Miami
, a weekly pop-up from Altamare's Simon Stojanovic that's bringing seafood sausage and beer to the Federal, taking reservations now for Monday night dinners starting February 3.
The concept behind this little soiree is simple—every Monday, Chef Stojanovic will gather a bunch of locally sourced goods (think: Swank Farms), make it all delicious and give it to you to eat. See, simple.
To take part, clear out a Monday night and reserve a spot. When the time comes, head to the Fed, take your seat and start with a beer. Then, make a little conversation with a comely friend over shared plates of roasted duck and
seafood sausage with pork crème
. Yes, seafood sausage. And pork crème. Seriously. We wouldn't joke about that.
But you can also opt to put your culinary fate in Stojanovic's hands. For that, go with the chef's tasting menu. You can trust the guy. Really.
Although a trust fall wouldn't be entirely out of place.