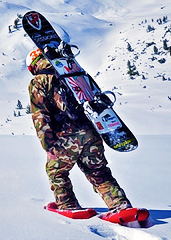 Today, we'd like to engage you in a contentious discussion about what this winter means for long-term global weather patterns.
No, not really. We just want to tell you about some cool snowshoes.
They're called
SmallFoot
, they're inflatable and collapsible, they're out of Eastern Europe, and they could really come in handy should the temperatures stay downright Eastern European.
If you ever dreamed of running through the powder on the next snow day, these are for you. If you ever dreamed of trekking across Alaskan glaciers, these... could also be for you, but let's not get carried away.
You'll take these out of your trunk or backpack, unzip their cases and inflate them with the included bike pump. The straps are designed to fit over any shoes, from wingtips to ski boots, so no worries there. Then you're off, outrunning snowplows and engaging in all sorts of snowbound daredevilry.
And if things get really icy, you can always strap on the included crampons.
Not to be confused with, well, you know.
Croutons.