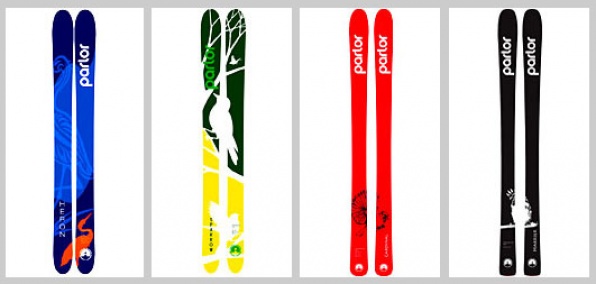 Your tailor can make you custom suits.

But he can't make you custom skis.

Because that would require a ski tailor.

And that's pretty much the definition of Parlor Skis, a Cambridge collective of ski pals turned custom-ski makers, taking orders now for next season.

The quick backstory: a couple of guys met while racing on the Williams ski team. One day they thought, "Hey, we should turn the basement of an old Cambridge funeral parlor into a custom-ski shop." And... here we are.

How you'll get your skis: start by choosing from four basic builds, all named after birds, which accommodate different ski styles. Like the soft-snow-cruising Heron. Or the quick-turning Sparrow. Or come up with a build of your own. (Bird name optional.)

Then one of these guys will call you, and you'll nail down the rest of the details. Things like body type, flex preference and ash versus poplar. When October hits, the skis will arrive at your place. Pretty simple.

Oh, and if you want to jazz up your skis with a personalized graphic, they can do that, too.

Nic Cage's face: an intriguing option.