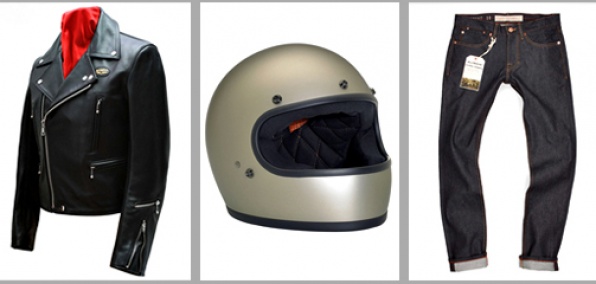 Wild Hogs. Biker Boyz. Ghost Rider.

Above: irrefutable evidence that we're long overdue for a good motorcycle movie.

Below: everything you need to inspire one.

Get your motor running for Jane Motorcycles, a virtual shop from a Brooklyn motorcycle den with all the open-road-ready essentials you'll ever need, online now.

The first thing to know about this motorcycle store: you won't find any motorcycles... yet. Not until they unveil their house-built custom jobs in the coming weeks. So for now, just settle for a titanium helmet and a leather jacket made by Britain's oldest motorcycle-jacket maker. And then go lean all Easy Rider–like next to someone else's bike.

Or if an actual motorcycle in your vicinity is less important than walking into a restaurant with the general aura of... someone who could theoretically have arrived by motorcycle: perfect. Because they're also a source of raw selvage jeans and perfectly tailored hoodies that are just as good on sidewalks as they are on an interstate—not to mention a full selection of California-made grooming products.

Hard to live a biker lifestyle without pomegranate body wash.