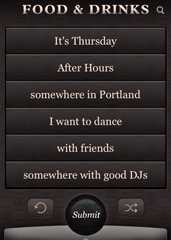 We never claimed to know everything.
Just... everything about Portland.
Introducing
The Next Move Portland
, the latest incarnation of UrbanDaddy's free, award-winning mobile app, now live in Portland to assist with all your eating, drinking and nightlife-fulfilling endeavors.
We'll make this painfully simple: if you're one of those people who like "interesting things" and "good times," you'll want to download this. All you need to do is tell it a few key details—where you are (say, in Old Town), who you're with (say, colleagues) and what you want (say, somewhere to escape the rain)—and the app will point the way. Literally. It's got maps and everything.
But we're not here to show you every establishment within a five-mile radius—only a select few make the cut. The best of the outdoor beer patios. The coziest of serious coffee spots. The most vegan of the local strip clubs (yep). Pick a place, make a reservation with the built-in OpenTable tab, take all the credit.
No, seriously, we insist.