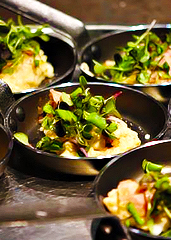 There's this clinical research study that we think you'd be perfect for.
Except it's not a clinical research study. It's a new supper club that takes place in locations that only a few other souls will ever know about.
Still, that really worked out...
Pull up a seat at the
Dogwood Table
, a monthly roving supper club that sets up four-course, wine-paired dinners in places like dark basements and industrial galleries, accepting email requests for early-access invites to February's dinner now.
First, meet Jared Hucks (he travels the world with Michelin-starred chefs) and Adam Fox (a former bartender and current sommelier). You'll like these guys. Promise.
Think about lining up a date for the February seating now (January's is sold out, but you were busy anyway). You'll start with snacks and drinks (pork belly and rye-and-absinthe cocktails: not out of the question) before sitting down with a dozen or so strangers. Then the coursed things will start arriving. Things not unlike
steamed littleneck clams
, stuffed pork loin and popcorn ice cream.
They're kind of all over the map future-location-wise, but there's been talk of a Cabbagetown studio and the old PushStart spot at the Goat Farm.
Nice map, though.