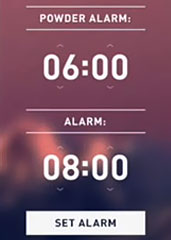 The Ski Fairy doesn't exist.
Bummer.
But if it did, it would probably be this new snow-activated digital alarm called
First Tracks
that wakes you up early when it snows overnight so you don't miss out on any fresh powder, available now for iPhone and Android.
If a smartphone alarm had the power to talk to nature, it would be this. And weird. But thanks to modern science (and the people at Helly Hansen who created the thing), there will be no such nature-talking. Just an alarm that leaps into action early if there's suitable powder on the ground.
First, choose your city. Killington, Vermont, for example. Then, set two alarms. 1) Your normal alarm, timed to the last acceptable hour to eat waffles. 2) Your "powder alarm," which only goes off if snow happened overnight.
Once you're awake, you'll get an instant report on snowfall and weather conditions. All that's left to do is strap two pointy boards to your feet and careen down a mountain while everyone else is sound asleep, waiting for their primitive, non-snowfall-synchronized alarms to ring.
Some people still live like that.