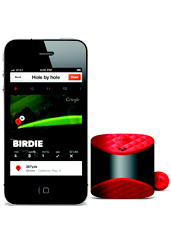 Golf is a hard game.
You know, if you play it without self-aware smart clubs...
Square your hips for
Game Golf
, a digital tracking system that you attach to your clubs and then... get better at golf, available for preorder now and shipping in February.
Think of this like a Fitbit for your golf game. You stick a tag on your club. You swing your club. You get a bunch of vital data (like drive distance and accuracy) sent to an app on your phone. You use that information for the betterment of mankind/your approach game.
So the next time you're going to play a few rounds, bring this. Use the built-in GPS to track the location of your shots (helpful if you've got a slice). And the instant stat updates to watch your handicap rise and fall in real time (not depressing at all). Then, when the round is over, all your scores and metrics will be displayed on the app and shared via social media.
Good luck changing that 8 to a 6 now.