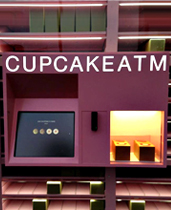 When an ATM tells you to insert your card, you comply.
When it tells you to select a transaction, you also comply.
When one of your transaction options is to withdraw a fresh cupcake, you...
Well, you're probably at
Sprinkles Cupcakes
, a new sugar factory that happens to be home to Atlanta's first 24-hour ATM that dispenses cupcakes instead of money, opening Friday at Lenox Square Mall.
It's a damn cupcake ATM. Who knows when you'll need such a thing. Maybe it's 2:28am and you'd like to enjoy a baked good for no reason. Maybe it's Valentine's Day and you know someone who's fond of icing and technology.
Doesn't matter. Just walk up to the animated computer screen and choose one of about 50 flavors (red velvet, German chocolate, chai latte...). After inserting your card, you'll watch a video of its robotic arm retrieving your cupcake from inside. A box will fall before you. Eat what's inside of it. Rejoice a great deal. Repeat as necessary.
And if you're up for stepping
inside
the mall (the ATM's on the outside, hence that whole 24-hour thing), the actual shop will have anything from root beer floats to slow-churned Cap'n Crunch ice cream.
And cupcakes. And humans.