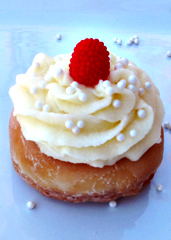 You don't believe in coincidences, but...
Friday is National Ditch Your Resolution Day. (Look it up.)
And Friday is when your alcoholic donuts are scheduled to arrive.
Just saying.
Begin an illicit love affair with
Crooked Confections
, a humble bakery slinging deliciously potent, spirit-flavored pastries across the nation, online now.
Baked goods with a 10% ABV. That's basically the long and the short of it. Mai tai donuts. Mudslide cannoli. Other cocktails inside of other pastries. It's all shipped directly to your door the moment a spiked-dessert craving hits. The Internet is good like that.
In total, you've got 18 donuts, two truffles, five cupcakes and four cannoli options to choose from. So just tell the bakers/bartenders behind this that you're in need of something like the Irish car bomb cupcakes, and they'll infuse Guinness, Baileys and whiskey right into the icing. Forty-eight hours later: you're nightcapping with cupcakes.
Oh, and they also take custom orders. Just name your pastry and poison, and presto chango...
... Whiskey cronut.