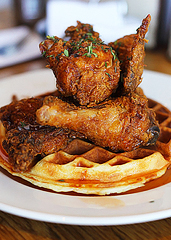 They say nothing good happens after midnight.
Hogwash.
You could hang out with paperboys.
Watch "No No Pro" infomercials.
Go to bars and then eat chicken and waffles at a breakfast club that doesn't stop serving until dawn...
Embrace your nocturnal side at
The Breakfast Club
, a Midtown Caribbean joint's way of giving the people what they want (when what they want is a hearty Jamaican breakfast between the hours of 2 and 5am), happening Saturday and Sunday mornings at Stir It Up.
2am. That's the hour when most bars start to close. 5am. That's the hour when the sun starts to come up. It's like they knew.
Picture it. It's very late, it's very cold, and you're very filled with bourbon. You need someplace warm and inviting and not afraid to place chicken and waffles in front of you at ungodly hours. It was all leading up to now.
Now is when your dance-floor-weary group has just been pulled into a tropical refuge by its warmth, its spiced shrimp with coconut grits and... its general being openness.
Nightcaps all around if it's before 3am. Hot coffees and fresh-squeezed orange juice if it's after 3am.
And probably some regret if it's 5am.